UP, DLSU, Mapua University technology researches spin-off into startup companies
Date Published: October 16, 2019
Source: https://www.goodnewspilipinas.com
Five technology research projects from the University of the Philippines Diliman, De La Salle University, and Mapua University are being established as startup companies with market-ready products in a spin-off project of the Department of Science and Technology (DOST).
The five startup companies are being funded for a period of one year by the Funding Assistance for Spinoff and Translation of Research in Advancing Commercialization (FASTRAC) of the Department of Science and Technology – Philippine Council for Industry, Energy and Emerging Technology Research and Development (DOST-PCIEERD), through the Research Information and Technology Transfer Division (RITTD).
The university researches are being funded by FASTRAC as part of efforts to bridge the gap between R&D and commercialization of DOST PCIEERD-funded technologies.
The 5 DOST-PCIEERD-funded technologies now establishing their spin-off companies are:
UP DILIMAN
● CharM (UP-Diliman)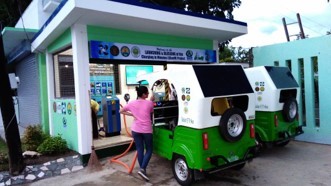 CharM or Charging in Minutes is a system for fast-charging electric vehicles (EVs) that are using the Lithium-ion battery storage technology. CharM provides an alternative charging strategy that eliminates the need for several hours in order to fully charge an EV. The conventional 4-6 hours in slow charging is reduced to less than an hour or even a matter of minutes for smaller vehicles.
● FISH-I (UP-Diliman)
Fish-I is a fish census hardware-software technology that allows for rapid reef assessment. It utilizes an underwater camera that records along a transect of a fishing site then analyzes the footage into data that can easily be viewed and understood by users on a computer. The data gathering is done in minutes and covers a total distance of 50 meters. The system generates automated data for Fish Count, Fish Population Density, Fish Identification, Fish Length, Fish Biomass
● Smart Surface (UP-Diliman)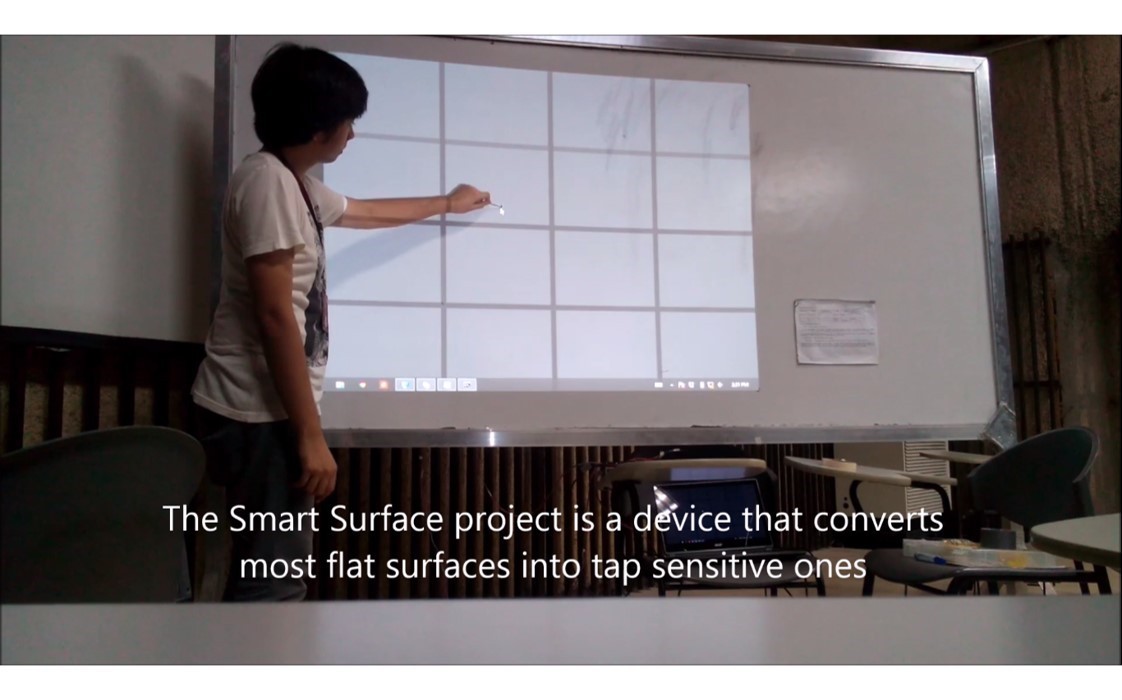 Smart Surface is an electronic sensor system that can convert virtually any flat surface into an interactive interface. Also, a system composed of a number of sensors and a central controller and more affordable and robust than Smart board. Smart Surface boasts for its distinct features that can compete with the already existing products in the market. Its content can be customized according to the client's preference; it is portable; it can be installed in existing surfaces; and most importantly, it is low-cost with speedy after-sales support in cases of replacement, repair services, or technical help.
CharM, Fish-I, and Smart Surface spin-offs were launched by UP Diliman last October 7, 2019.
MAPUA UNIVERSITY
● USHER (Mapua University)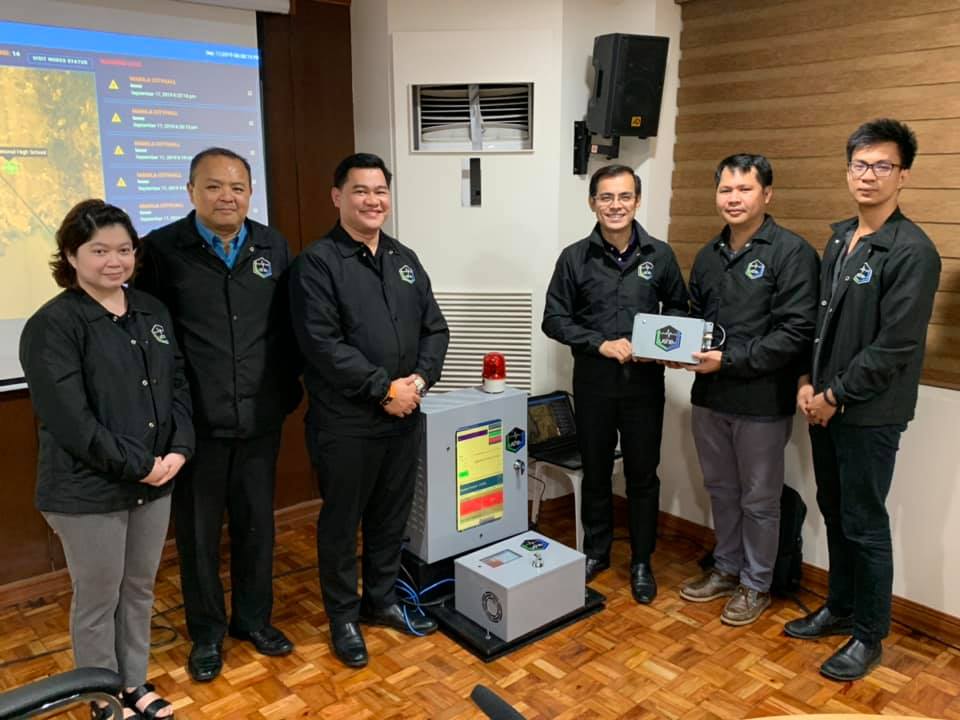 Universal Structural Health Evaluation and Recording System (USHER) is a building structure health monitoring system composed of an accelerograph/ sensor web portal system. The patent-pending technology can be installed in buildings of all types, allowing building managers to monitor the structural integrity of the building, and ensure economical and hassle-free compliance with Philippine government regulators. Unlike existing products. USHER has streamlined and tailored the system to the local market, making it remarkably lower in cost while still offering a complete solution to ensure business continuity
The USHER spin-off was formally launched by Mapua University last September 2, 2019.
DE LA SALLE UNIVERSITY
● CATCH-ALL (De La Salle University)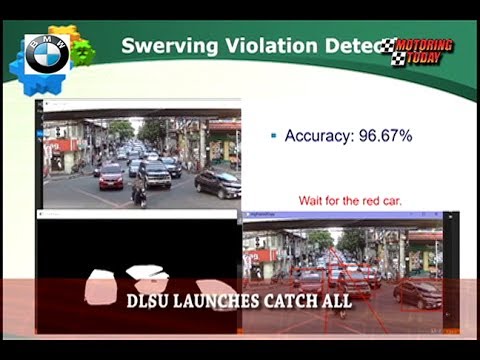 CATCH-ALL or Contactless Apprehension of Traffic Violators, is a Vision-Based Artificial Intelligence Analytics Software for Traffic and Transport Applications. Under the CATCH-ALL system, all types of vehicles and violations will be detected via its smart camera video capture. The system will display the vehicle's detection and tracking, profiling, plate localization and plate character recognition for more detailed traffic violation identification.
The Catch-All spin-off is targeted to be launched by the DLSU this November.
Aside from these five technologies, the FASTRAC Program is also funding two technologies: Marine Nanocoat (DLSU) and Monascus Colorants (UPLB) under its translation track to translate these research outputs into market-ready products.
The FASTRAC is a follow-up program for handholding technologies until commercialization. "It is basically a funding mechanism that pushes our researchers to pursue commercialization of their projects and also eases their researches into the field of doing business," said Russell Pili, Chief of Research Information and Technology Transfer Division of DOST-PCIEERD, in a DOST report sent to Good News Pilipinas.
Interested universities can also avail of the funding by complying with the following requirements:
● Must be a DOST-PCIEERD R&D grantee;
● Must have an accomplished invention disclosure form or IP inventory form submitted to the University IP Office;
● Must submit an Endorsement/ support letter from the University IP Office;
● Startups who already registered but who are recipients of a university license on a DOST-PCIEERD-funded technology must submit an authenticated copy of the latest Articles of Incorporation or Business permits, License Agreement.
The DOST-PCIEERD Technology Transfer Division is targeting twenty-one (21) technologies to be funded under the FASTRAC Program in the next three years.
The DOST has been assisting universities in technology projects, among them, the UP ULyS3ES space technology studies center and the Yellow Bus NuLab — Aurora Quadra-Balibay .