First Irish Embassy in PH opens in RCBC Plaza
Date Published: October 17, 2023
Source: https://mb.com.ph/
RCBC Plaza has recently included the Embassy of Ireland among its roster of clients, making it the eighth diplomatic mission housed in the iconic business complex. This is the first permanent chancery that Ireland has established in the Philippines and is expected to be instrumental in strengthening the nation's political and economic ties.
The opening of the chancery is in conjunction with the Global Ireland initiative to expand its international presence which identified the Philippines as a strategic location given the increasing size of Filipino diaspora in Ireland and the growing potential for trade and linkages.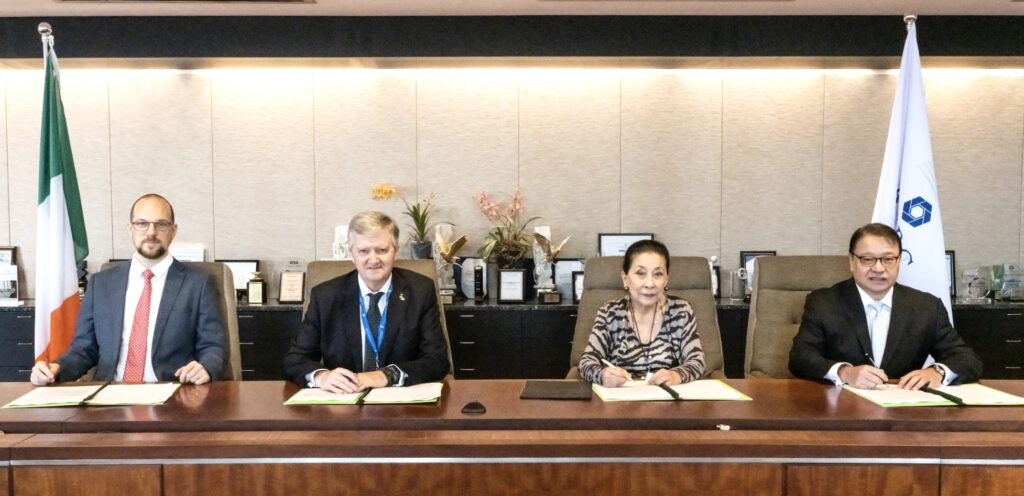 Photo shows, from left: Brian McCrohan, deputy head of mission of Ireland to the Philippines; His Excellency William John Carlos, the Ambassador of Ireland to the Philippines; Helen Yuchengco-Dee, chairperson of RCBC Realty Corporation and the Yuchengco Group of Companies; and Lorenzo V. Tan, president and CEO of RCBC Realty Corporation.
The Embassy will offer passport and consular services. However, visa applications will continue to be submitted through its external visa application center.
Located on the 18th floor of the RCBC Plaza Tower II, this new office provides convenient access for Irish citizens in the Philippines, existing and potential trade partners, and those who wish to conduct business with the embassy.
Aside from its strategic address at the heart of the Makati business district, the competitive cost and RCBC Plaza management's familiarity and expertise with the needs of the premium corporate occupier as well as of the diplomatic community — particularly in the areas of security, safety, environmental impact and functionality — were the critical considerations for the Embassy of Ireland's decision to move to RCBC Plaza.
The Yuchengco Group of Companies (YGC) and the Sovereign Wealth Fund of Singapore Operators Government Investment Corporation (GIC)-owned business complex is also home to over 30 local and international companies, with more than 10,000 employees calling the complex their home base.
The iconic corporate address is currently undergoing various facility enhancements which address the continuously changing needs of its clients.
"We believe that continual upgrades are the key to retaining RCBC Plaza's position as the premium business address in Makati. Ensuring that our building occupants' and guests' satisfaction and wellbeing are never compromised is our ultimate aim, as such, apart from a scheduled revitalization of our retail areas, we are already in the process of upgrading the various building systems for power, life safety, and air conditioning — particularly fresh air delivery," said Ariel G. Aznar, RCBC Plaza property manager.
As a former recipient of the ASEAN Green Energy Award, RCBC Plaza is proud of its credentials as the forerunner in Green Building Environmental Initiatives within the Philippines. Its unrelenting effort in support of a sustainable workplace carries on with the continued initiative required in retaining the U.S. Green Building Council's LEED EB:OM Gold certification for RCBC Plaza — the only multi-tenanted building in the country to have received such award.