DPWH, EEI, Villar Group complete PICC Forum Halls construction of Covid-19 facility in 7 days
Date Published: May 5, 2020
Source: https://businessmirror.com.ph
THE Department of Public Works and Highways (DPWH), with the support of private firms EEI Corporation and the Villar-led Vista Land Group, has completed the construction works of the health facility at Philippine International Convention Center (PICC) Forum Halls in just seven days.
Secretary Mark A. Villar announced that civil works for the makeshift hospital at PICC Forum Tent are already completed with 294 patient cubicles, six nurse stations, and six smart houses outside the Forum building for the health workers.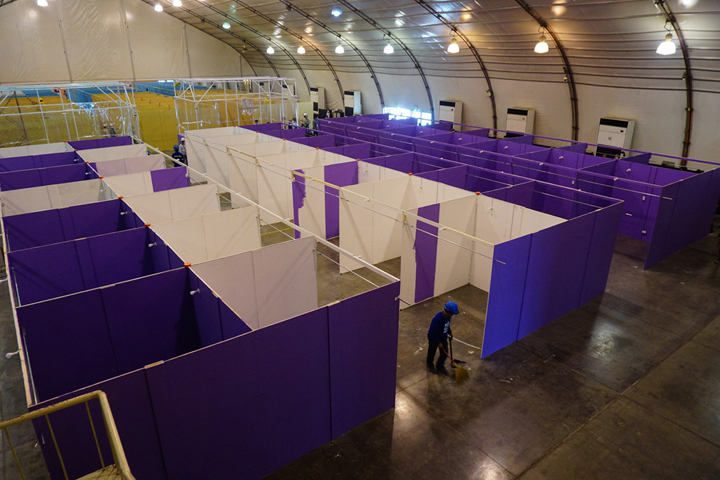 The PICC Forum site was one of the three prioritized for conversion into health facilities for Covid-19 cases—for infected patients, or those persons under investigation and persons under monitoring—under a government-private partnership meant to prevent hospitals from being overwhelmed and unable to respond adequately as the pandemic spreads.
The two other priority sites, now also ready, are the Rizal Memorial Sports Complex in Manila and the World Trade Center in Pasay City.
"With the DPWH-EEI-Villar Group Team working 24/7, we finished the job quickly ahead of the 10 days' work programmed for conversion of PICC Forum Tent," said Secretary Villar on Tuesday.
The fully air-conditioned health facility at PICC complex will soon cater to patients with mild to moderate cases of coronavirus disease (Covid-19) once medical

equipment, such as hospital beds, are installed and disinfection activities are completed.
"The Philippine National Police (PNP) Medical Corps will manage the health service operation of PICC Forum Tent quarantine facility", added Secretary Villar.
Earlier, Villar formed a DPWH Task Force on Augmentation of Healthcare Facilities to work for the conversion of PICC, the Rizal Memorial, WTC and other large-scale public buildings to be used as isolation sites to address hospital space shortage due to the rise of Covid-19 cases.
The task force headed by Undersecretary Emil K. Sadain has also identified open spaces in Metro Manila where prototype tents can be installed and transformed into quarantine hubs.
Villar also directed the utilization of the available 114 DPWH-built evacuation centers nationwide as health care facilities and for other Covid response purposes.
Meanwhile, Villar also lauded the DPWH men and women, who are also acting as support frontliners during this national health emergency.Image
Credits: Roy Domingo, Nonie Reyes